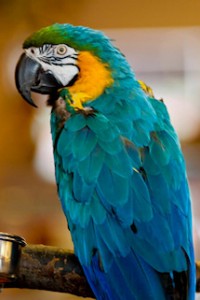 Roxie the Parrot is a blue gold macaw that was born on May 15th, 1972. Roxie has lived at Libin's since May of 1996 when she first joined the Libin's staff as the Greeter. She welcomes the customers into the store with more than 40 sayings. She is even known to wave hello and goodbye.Young visitors are her favorite and often get most of her attention.
When Roxie isn't at the store, she likes to spend her time with her friends; the store manager, a Scottish terrier named Wally and Barney the Barn Cat. She is not always at the store so if you miss her she is at home spending time with her friends.
Roxies Hours are 9:30 A.M. to 6:00 P.M. Monday, Tuesday and Saturday, 9:30 A.M. to 9:00 P.M. Wednesday and Friday, and 9:30 A.M. to 1:00 P.M. Thursday.