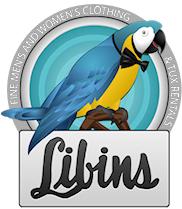 Roxie Welcomes You To Libin's
Libin's has a great selection of Menswear for you to choose from. Come on in and let their professional staff get you what you need.
On site tailoring from one of Libin's highly experienced and professional tailors are available in the store.  Do not worry about taking your purchases anywhere else, your alterations are in good hands.
The expert sales staff at Libin's is prepared to not only help you around the store, but are more than willing to help you find the right style, cut, fit, and look for you. They have a lot of experience and can guarantee you will walk out happy.