At Libins, we have a large selection of menswear that accommodates many preferences and styles. Whether you're looking for something to wear into the office, to a special event, or everyday wear, Libins provides quality men's clothing, women's clothing, and other accessories from many well-known brands, delivering accessible fashion to the Kalamazoo, Michigan area. With an emphasis on friendly customer service and expertise in the world of fashion, customers can find exactly what they're looking for. Learn more about Libins and the men's clothes that we offer.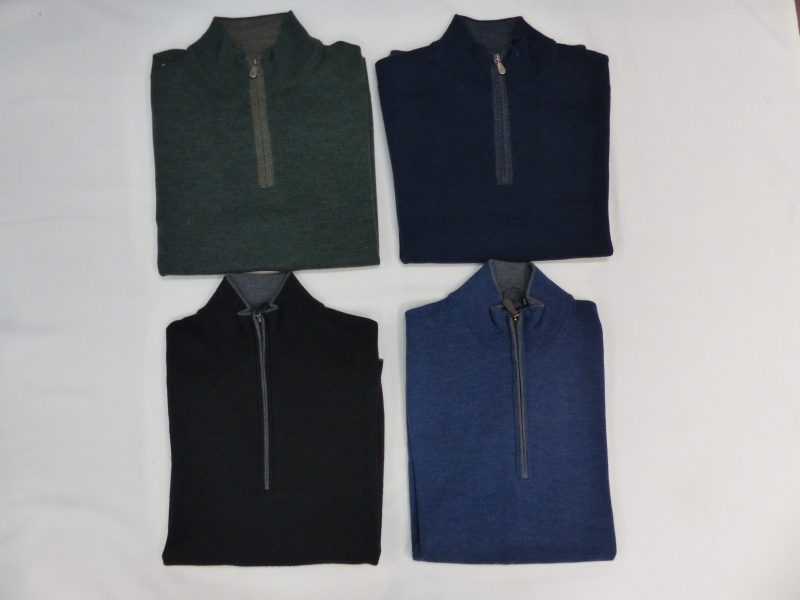 Raffi Merino Wool 1/4 zip sweaters $160. sale 25% off
Colors Forest, Navy, Indigo, Charcoal and Black
About Libins
Libins is one of the few men's clothing stores that offer menswear near Kalamazoo, Michigan. We have been in business for more than 60 years, specializing in fashion and making high-quality clothing available to the community. For years, customers have relied on the knowledge of our staff with assistance with clothing, fashion, and more. Through reliable and friendly customer services, customers can comfortably shop in a safe environment that allows them to browse and brainstorm new outfits. We offer designer suits, sports coats, and casual wear for men, including those with unique sizing through our Big and Tall clothing items. We provide a variety of men's clothing options, such as pants, shorts, accessories, and shoes.
Our selection of men's clothing offers the most quality brands available for an affordable price. We work with many brands, including:
Hart Schaffner Marx
Calvin Klein
Ralph Lauren
Nautica
Michael Kors
Menswear Offered at Libins
Libins sells many men's clothing items at our store, including:
Designer Suits
We offer a range of designer suits that accommodate many sizes and events. Whether you're shopping for a wedding, prom, or other special event, our staff can assist you in finding the right size, style, and color of suit that fits your needs and preferences. We work with many high-quality brands delivered right to your hometown, offering luxury and comfort to our customers at an affordable price. Some of the most affordable and best brands we work with for our designer suits include:
Calvin Klein
Hart Schaffner Marx
Ralph Lauren
Michael Kors
Andrew Marc
Tommy Hilfiger
We also offer tuxedo rental services, allowing everyone to look their best affordably.
Business Casual
At Libins, we provide many business casual options for those looking to dress up for work or other occasions. Get comfortable in your workday by purchasing a pair of Dockers Workday khakis, ensuring you remain comfortable through the longest of days. We also offer Calvin Klein branded shirts. Customers can also look through our inventory of Tommy Hilfiger blazers, giving them plenty of opportunities to look and feel their best.
Casual Wear
Libins also offers many clothing options for more casual days, suiting everyone's styles and preferences. For men, we provide a variety of shirt and pant styles, including Haggar pants and shorts. We also work with other well-known brands for casual wear, such as:
Levi's
Pendleton
Nautica
Docker Sportswear
Cutter & Buck
F/X Fusion
Along with casual shirts and pants, we also have an extensive offering of activewear to keep you comfortable and active throughout the weekend.
Modern & Slim-Fit Options
We aim to provide styles that work with many body types. One way we do that is by ensuring body inclusivity is accessible and comfortable through our clothing. We offer many options for a tighter fit and trendy appearance, including our suits, sportswear, dress shirts, and pants. We deliver modern and slim-fit clothing from many well-established brands across the country, including:
Calvin Klein
Tallia Orange
7 Diamonds
Trend and Nicoby
Modena
Dockers
Kenneth Cole
Men's Accessories
From shoes to socks to ties, men can find the perfect way to complete their look. Shop through our selection of stunning hats, including those made by Dobbs & Stetson. Customers can also look through our shoes made by quality brands, like Johnston & Murphy.
Stop by Libins Today
By shopping at Libins, customers can access luxury, quality fashion right here in Kalamazoo, Michigan. We hold importance to creating a comfortable environment to allow you to explore and browse, which we do through our friendly customer service and a vast selection of clothing pieces that accommodate a variety of body types. To learn more about our menswear and other clothing and accessories we offer, contact us today.
Calvin Klein
Hart Schaffner Marx
Ralph Lauren
Michael Kors
Andrew Marc
Tommy Hilfiger
Dobbs & Stetson Hats
Dockers – Workday Khaki
Kenneth Cole Modern and Slim Fit
Calvin Klein Dress Shirts
Tommy Hilfiger Blazers
Johnston Murphy Shoes
Levi
Pendleton
Haggar  Pants & Shorts
Nautica
Docker Sportswear
Cutter & Buck
FX Fusion
Suits – Calvin Klein and Tallia Orange
Sportswear – Calvin Klein,  7 Diamonds. Trend and Nicoby
Dress Shirts – Calvin Klein and Modena
Pants – Dockers, Kenneth Cole and Calvin Klein