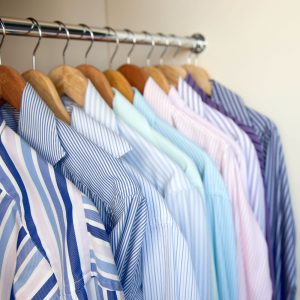 There comes a point in every man's life when it's time to embrace being an adult and move the crusty old concert T-shirts, the weekend golf polo, the cargo pants and that 11-year-old button down to the back of the closet.
Sure, break them out when you're feeling nostalgic or they serve a particular need, but don't sport them when you want to dress to impress.
That doesn't mean guys need to go on a shopping spree that will bust the bank, and it doesn't require guys to go "fashion forward" or out of a general comfort zone. There is a way to stick to your style and look sharp while working with the basic guidelines on the essentials for your closet.
Here's what to start shopping for:
A classic suit in charcoal, black or navy
Choose a solid color or a pattern that will stand the test of time, making this suit the correct choice for any need, such as job interviews or special events that include weddings and funerals. It's a can't-go-wrong option.
4 coordinated dress shirts
A basic white, two color-coordinated shirts and a pattern that matches the suit, giving guys the flexibility to alter the appearance while still keeping it simple.
2 ties
Two ties will provide the same versatility that you seek when you vary your shirt selection. Make sure that the ties can be worn with at least two of the above dress shirts.
A sport coat or blazer
A quality sport coat or blazer balances your style for a dressed-up look that doesn't require a full suit. Again, it's important to match this piece of clothing with your shirts and ties, keeping your look consistent, yet different.
2 pairs dress pants
These will work with your sport coat or for even less formal occasions with one of your dress shirts or a sweater are appropriate.
A pair of dress khakis
Simple, understand and classic khakis are standard wear that will serve you for years.
Three sport shirts
As with everything else, these pieces should tie back into the group, providing value and extending the diversity of your wardrobe.
One dress sweater and one causal sweater/quarter zip
These are for layering over shirts.
A nice pair of jeans
This pair of jeans could become your favorite, but they're not for days on the couch or working outside. Restrict them only for a relaxed look and pair with the sport coat when appropriate.
A dress belt
This accessory, like the jeans, are for use only when wearing the suit or blazer. A belt will last for years if you don't wear it out with everyday wear.
Two casual belts, one black and one brown
Here are your everyday belts.
Black dress shoes
Bulletproof, quality dress shoes are a must to round-out your suit for formal occasions.
Brown business casual shoes
These complement your outfit for dress or casual events.
This is a no-nonsense approach to updating your closet and feeling good about the way you look in every imaginable scenario. There is variety, but also consistency that makes many of the pieces interchangeable.
As always Libin's experts are happy to lend their decades of experience in outfitting men to look their best. Stop in and talk to our team when you're ready to update your clothing with the indispensable elements of style.