At some point (preferably sooner than later) every guy abandons wearing a pre-tied or clip-on tie when they're heading out to a formal event or just going for a sharper, more professional look at work.
While tying the perfect knot for the first time comes with some struggle, with the proper instruction it will become second nature and you'll be surprised that it was ever an issue. Whether you were too stubborn to listen to instructions earlier in life or just never needed them, we know that you'll follow these simple steps to achieve the proper look.
Here are the how-to primers that will take you from a rookie to the big leagues.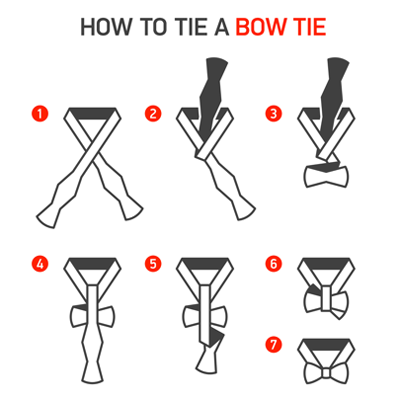 Bow Tie
The bow tie's resurgence has been a fashion trend in the making for several years as men choose to return to the tradition. These 8 simple moves to bring out your inner James Bond.
Hang the bow tie flat around your neck. Pull side A longer than side B by 1.5 inches.
Bring A across B close to your neck. The tight proximity will prevent the tie from becoming too loose.
Take A up behind B to form a simple and loose knot.
Fold B to make a bow tie shape by pulling it to the left. Fold it back over itself to the right. The collar points should be directly behind the fold.
Drape A over the front of B.
Fold A and pass it through the loop behind B.
Partially pull A through the loop to form the back half of the bow.
Tighten the knot and adjust until even by pulling on opposite sides simultaneously. Pull the front left and back right section to tighten, and the front right and back left end apart to loosen.
Four-In-Hand Knot
Just because the bow tie is back, it doesn't mean men should abandon the traditional look that has also stood the test of time. Here are the 6 steps to have you ready to turn heads when you walk in a door.
Start with the backside of the tie facing away from you, the wide end is on the right and the small end is on the left. The tip of the small end should rest slightly above your belly-button. Move only the active end.
Pull the wide end under the small end to the left.
Cross the small end to the right.
Bring the end into the neck loop from underneath.
Return the tie through the loop you've just made in the front.
Pull down on the wide end to tighten.
Slide the knot up to adjust.
While we think these steps are easy, we've also been Kalamazoo's premier men's clothing store for more than 60 years. Stop by and we are happy to share our experience and first-hand knowledge with you.